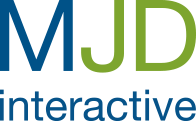 About MJD Interactive
MJD Interactive Agency helps our clients build brands and achieve business objectives with innovative, award winning digital experiences. We are Redefining Interactive™ - bringing the medium to a new level by building immersive experiences wherever our client's audience engages with them in the digital world. This includes building and refining their digital brand, their website, mobile apps, interactive displays, through search and social media. A heavy concentration on analytics and scientific campaign testing and iteration ensures that we're getting the best possible return on all online marketing initiatives.
Redefining Interactive™ means choosing the best tools for the job, and when it comes to building large-scale, enterprise websites, Drupal is the clear choice. We have thousands of hours under our belt designing and building bleeding edge Drupal sites, truly pushing the technology as far as possible. Our special niche in the Drupal community is User-Centric Design. We incorporate strategy, branding, user experience, design and technical know-how to help our clients connect with their users. Part of this is also building Drupal sites that allow a very important user group, site administrators, to easily edits their sites without extensive training required. To us, it's important for the technology to get out of they way so our clients can accomplish their business goals.
Attending with MJD Interactive